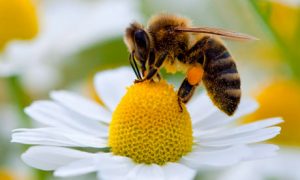 The Madison Library will host local beekeeper, Athena Contus, of Wonalancet Honey Bee Co, Thursday, May 11 at 7 pm in the John F. Chick Room. Athena will explore the four natural resources honey bees take into the hive and why we should care.
Athena is in her 9th season of beekeeping in Wonalancet, NH. A candidate of the Eastern Apiculture Society Master Beekeeping program, her goals include teaching other beekeepers how to sustainably raise northern, disease resistant honey bees. She can be found selling her variety of honey infusions at the Tamworth Farmers' Markets, but most often at her honey and beekeeping supply shop, Wonalancet Honey Bee Co., in Center Ossipee.
Not to bee missed!
Free and open to the public. Refreshments will follow the presentation.