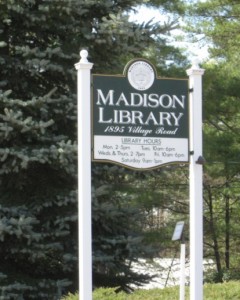 Madison Library
1895 Village Road (NH 113)
PO Box 240
Madison, NH 03849
603-367-8545
librarian@madison.lib.nh.us
Hours
Monday 2 to 5
Tuesday 10 to 6
Wednesday 2 to 7
Thursday 2 to 7
Friday 10 to 6
Saturday 9 to 1
Sunday closed
The Madison Library will be closed on the following holidays: New Year's Day, Martin Luther King, Jr. Day, Presidents' Day, Memorial Day, Independence Day, Labor Day, Columbus Day, Veterans' Day, Thanksgiving, Christmas. The library will close at 5 pm on the day before Thanksgiving, and at 4 pm on Christmas Eve and New Year's Eve.
Vision statement: The Madison Library will be a community hub and our town's link to a larger world.
The mission of the Madison Library is to connect the people of Madison with materials, programs, and services that educate, inform, entertain, and inspire.
The Madison Library endorses the "Freedom to Read" provisions of the American Library Association.