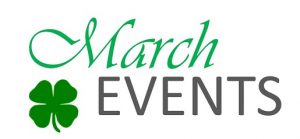 Every Friday: 10 am Story Time for 2-5 year olds
Thursday, March 8: 4:00 Story Time & Activity for 3-6 year olds
Thursday, March 15: 3:30 Book Club for Grades 5/6: The Luck Uglies
Saturday, March 17: Find the Leprechauns!
Thursday, March 22:
3:30 Book Club for Grades 3/4: Timmy Failure
7:00 Author Event: Ty Gagne to discuss his book Where You'll Find Me: Risk, Decisions, and the Last Climb of Kate Matrosova
Thursday, March 29: 4:00 Kids Movie Night: Coco (snacks and refreshments)
If you would like more information, please give us a call at 367-8545.
I hope to see you at the library!